KYOKO YOSHIDA official website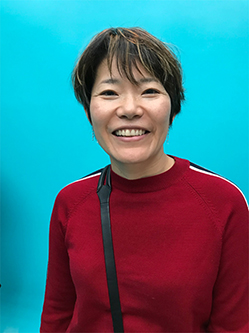 KYOKO YOSHIDA

fiction writing, translation, American Literature, baseball
Kyoko Yoshida was born and raised in Fukuoka, studied in Kyoto and Milwaukee, taught in Yokohama and Tokyo, and now teaches in Kyoto. She writes fiction in English and translates from/into Japanese. Her story collections are Disorientalism (Vagabond Press, 2013) and Spring Sleepers (Strangers Press, 2016). Her stories appear in the inaugural BooksActually's Gold Standard 2016 (Math Paper Press) and After Coetzee: An Anthology of Animal Fictions (Faunary Press, 2017). She is one of the co-translators of Alice Iris Red Horse: Selected Poems of Yoshimasu Gozo (New Directions, 2016). With poet Forrest Gander, she has translated Spectacle & Pigsty (OmniDawn, 2011; Best Translated Book Award in Poetry, 2012); with playwright Andy Bragen, Proud Son by Shu Matsui, Like a Butterfly, My Nostalgia by Masataka Matsuda, and others. She has translated fictions by Dave Eggers and Gary Shteyingart into Japanese. She was a 2005 International Writing Program fellow at the University of Iowa. She has also written on pre-WWII trans-Pacific baseball exchanges and cultural representations of American baseball.
1969
Born in Munakata, Fukuoka
1989
Graduates Fukuoka High School
1994
B.A. in American Literature from Kyoto University
1996
M.A. in Human and Environmental Studies from Kyoto University
1999-2001
Editor-in-Chief,

The Cream City Review

2001
Ph.D. in English at University of Wisconsin-Milwaukee(Creative Writing)
2001-2014
Faculty of Letters, Keio University
2005
Honorary Fellow, International Writing Program, University of Iowa
2005-2007
Visiting Fellow, Literary Arts Program, Brown University
2014-present
College of Letters, Ritsumeikan University
Publications
(in the reverse chronological order, as of 2019)
Fiction
Essays & Papers
Translations from Japanese into English
Publications in Japanese
(Books, Fiction, Academic Papers, Essays, Reviews)
「エッセイストとしてのデイヴィド・フォスター・ウォレス」『すばる』2018年9月号. 298-300.
「【コラム】読者・創作コミュニティ」『アメリカ文化事典』丸善出版, 2018. 590.
「ディスオリエンタリズム−−偽アメリカ作家の告白」『三田文學 特集 アメリカの光と影』2017年夏季号. 48-57.
オマル・エル=アッカド著, 黒原敏行訳、『アメリカン・ウォー』共同通信社配信書評, 2017年10月
「想像上のアメリカ作家」『現代詩手帖 特集:旅する現代詩』2017年5月号. 58-60.
随筆「リジェクション・スリップ」『群像』2016年11月号、264−65
書評「ネットワークとフットワークで―—ジェフリー・アングルス編『いまここにこれらのことを』ほか」現代詩手帖59巻 11号、2016年11月、96-97.
「安全の手引き」『文学と環境』19号, 2016年10月. 11-12.
『ベースボールを読む』慶應義塾大学出版会, 2014.
「アメリカの夢のベトナム化--Bharati Mukherjeeの

The Middleman

に見るアメリカ原理主義--」『立命館英米文学』24号, 2014. 35-53.
「翻訳跡地まで」『現代詩手帖−−ニュートランスレーション−−翻訳の詩学』思潮社10月号, 2012. 26-30.
「ワークショップ Inc.— デイヴィド・フォスター・ウォレス『帝国は進路を西へ』 に見る創作科のジレンマ」『ALBION』(復刊58号), 2012. 34-54.
「徹底解剖(しない)! ヴォネガットの笑い」「トウモロコシとブタとラ イターズ・ワークショップ— アイオワのヴォネガット」『現代作家ガイド6 カート・ヴォネガット』巽孝之ほか編. 彩流社, 2012. 142-154; 155-169.
「トウモロコシとブタとラ イターズ・ワークショップ— アイオワのヴォネガット」『現代作家ガイド6 カート・ヴォネガット』巽孝之ほか編. 彩流社, 2012. 155-169.
「creative wiringと三田文学」『三田文学』104号, 2011. 206-214.
「キャンパス都市日吉」『ニューズレター』慶應義塾大学教養研究センター(19巻1号), 2011. 1.
「数え歌である」(野村喜和夫著『ヌードな日』書評)『現代詩手帖』12月, 2011. 145.
「作家の作家の声—二つの「音声計画」に見る創作科の声の政治学」『悪夢への変貌』福岡和子ほか編. 松籟社, 2010. 225-252.
「新刊紹介」(安河内英光、馬塲弘利編『ポストモダン・アメリカ』書評)
「日米野球の黄金時代—散逸した藤田コレクション」『慶應義塾図書館の蔵書』佐藤道生編. 慶應義塾大学出版会, 2009. 77-107.
「Brian Evenson」『Albion』復刊54号, 96-102.
「情の技法のもつれ—アメリカの創作科と文学批評」『情の技法』坂本光ほか編. 慶應義塾大学出版会, 2006. 181-201.
「食人から聖餐まで--クッツェー作品におけるもの喰うイメージ」『J. M. クッツエーの世界--〈フィクション〉と〈共同体〉』田尻芳樹ほか著. 英宝社, 2006. 241-282.
「新刊紹介」(多田健次著『海を渡ったサムライの娘杉本鉞子』書評)『アメリカ学会会報』152号, 2004. 7.
「ポストモダンの長い午後」(ジョン・バース著, 志村正雄訳 『ストーリーを続けよう』書評)『週刊読書人』(2493号), 2003. 5.
「映画・悪夢・鏡・嫉妬」『八事』19号, 2002. 137-142.
Translations from English into Japanese
Recent Literary Festivals, Writers' Conferences and Residencies
| | |
| --- | --- |
| Feb.-Mar. '19 | International Writers' Workshop, Hong Kong Baptist University |
| Nov. 2018 | George Town Literary Festival |
| Apr. 2017 | The 50th anniversary events at the International Writing Program at University of Iowa |
| Jan. 2017 | Jaipur Literature Festival |
| Nov. 2016 | Singapore Writers' Festival |
| Feb. 2016 | JAPAN NOW at British Library |
| Jun. 2015 | The WORLDS Literary Festival (Norwich) |
| Mar. 2015 | The Tokyo International Literary Festival (translation workshop leader) |
| Mar. 2015 | ASEAN Literary Festival |
| Mar. 2013 | Sydney Writers' Festival |
| Nov. 2005 | Residency, Kimmel Harding Nelson Center for the Arts (Nebraska City) |
| Sep. 2005 | International Writing Program (University of Iowa) |
Selected Conference Papers and Lectures
May 10, 2019
"Writing and Translating in the Age of Post-National Literature." Translation Workshop. Rutgers University. May 10, 2019.
Mar. 29, 2019
"Is Murakami an American Writer?" David Karashima, Masatsugu Ono, Kyoko Yoshida. Association of Writers and Writing Programs (AWP) Annual Convention, Oregon Convention Center
Jul. 14, 2014
"Consider the Fancy Prose: Nabokovian Legacy in David Foster Wallace's Infinite Jest" What Happens Now: 21st Century Writing in English Conference. University of Lincoln, UK.
Oct. 12, 2005
"Disorientalism," Iowa City Public Library Panel on Imagination/Fantasy/Reality
Apr. 30, 2005
"Cannibalism and Vegetarianism: Eating (Dis)Order in J. M. Coetzee's Fiction," J. M. Coetzee and Post-Apartheid South African Literature: International Conference, at Royal Holloway, University of London, United Kingdom.
Feb. 12, 2005
"The Bach Experience," The Postcolonial Studies Symposium 10: What Is a Classic?: Postcolonial Literature and the Canon, at Chukyo University, Nagoya
Oct. 17, 2004
"The Acts of Reading in

The House of the Seven Gables

," The Annual National Conference of Japan American Literature Society at Konan University, Kobe
Mar. 1, 2003
"Why Write At All?" The Annual Conference of the Associated Writing Programs, Baltimore
Links